Thursday, August 20, 2009


Joelle was excited and ready to go!

We first walked around and looked at all the rides and games. Joelle really wanted to ride the Merry-Go-Round, so we bought some tickets. Thankfully, the man let me ride with Joelle, and I didn't have to pay three more tickets!

By the time we had finished our ride on the Merry-Go-Round, it had started to sprinkle - which in the next 5 minutes turned to rain. We rushed to the petting zoo and found some adorable animals - including a llama!
We then ran to the cattle barn (My Dad's favorite place, I'm sure!). Of course, I used to be a
farmgirl
(And I would give anything to be one again :), and to some people the smell of manure - or cows in general - is repulsive! But I LOVE the smell - I could smell it all day every day!
I really do love cows :)
The rain didn't last very long - maybe 5 minutes - so while we were wandering the cattle barns, the rain stopped and a beautiful rainbow came out!
And I will establish my covenant with you, neither shall all flesh be cut off any more by the waters of a flood; neither shall there any more be a flood to destroy the earth.
And God said, "This is the token of the covenant which I make between me andyou and every living creature that is with you, for perpetual generations:
I do set my bow in the cloud, and it shall be for a token of a covenant between me and the earth.
Genesis 9:11-13
Joelle wanted to play this ducky game. All you do is pay $2, pick up one duck, and on the bottom is a letter. S = Small Toy, M = Medium Toy, L = Large Toy. Joelle got an S and she picked a cute little flower:
We were getting kind of hungry, so I stopped and got a funnel cake. Ahh, funnel cakes :) So fattening, yet so yummy...
Dad was hungry for a cheeseburger, so while he got one, Joelle and I sat down on a picnic table. Right after I got my funnel cake, I took Joelle and got her some cotton candy. I had promised her weeks ago that I would buy her some, and she hadn't forgotten!

She took a couple bites and said "Eww!". Dad and I helped her finish :)
Joelle was SO brave! I kind of wanted to go on a roller coaster, but I also wanted Joelle to go with me. We rode one called the Dragon Wagon! I had ridden it before and it wasn't scary. I convinced Joelle to go along :) We were actually the only ones on the ride! We sat in the very front. It lurched forward and Joelle had this tight look on her face like"I'm gonna die, I'm gonna die..." :) You go sideways, way up, straight down, curve like crazy and repeat. You go around maybe 10 times, and Joelle loved it on the second time! By the time we got around to 8 times, Joelle was like "OK Emily, we can get off now!". But she was so brave and I was proud of her :)
For as many years as I can remember, the Ferris Wheel had been the same. This year, they had a different one! It was called 'The Big Eli'. I personally liked the old one better, although I've never ridden Big Eli. Hmm, I guess I'm not the biggest of fans of Ferris Wheels, I'm not too cracked on the rocking back and forth and slowly rising to the top. Next year, I'll have to try out Big Eli :)
By that time, it was getting darker. I loved how the lights stood out against the dark sky! This has been my first year of photography, and I hadn't had the chance to take pictures like this before!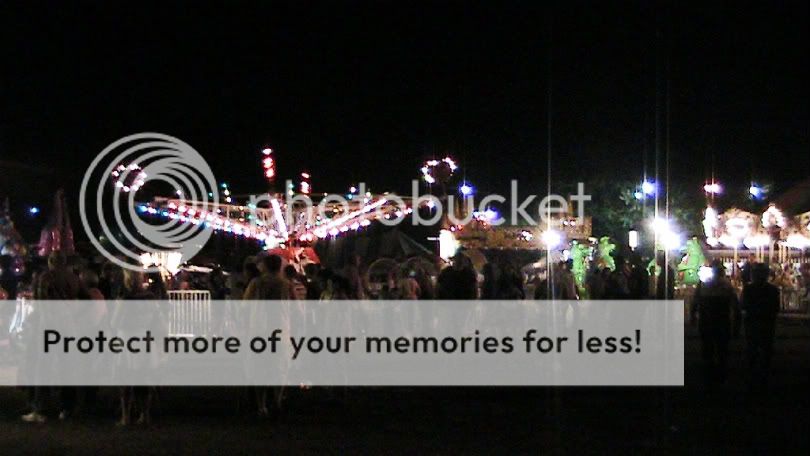 A Veritable Smorgasbord

(From Charlotte's Web)
A fair is a veritable smorgasbord orgasbord orgasbord
After the crowds have ceased
Each night when the lights go out
It can be found on the ground all around
Oh, what a ratly feast!
Melon rinds and bits of hotdogs
Cookie crumbs and rotton cotton candy
Melted ice cream, mustard dripplings
Moldy goodies everywhere
Lots of popcorn, apple cores
Bananna peels and soggy sadwiches
And gobs of gorgeous gook to gobble at the fair
A fair is a veritable smorgasbord orgasbord orgasbord
After the gates are shut
Each night when the lights go out
It can be found on the ground all around
That's where a rat can glut, glut, glut, glut!
Joelle in front of her favorite ride - the Merry-Go-Round! Who doesn't love the Merry-Go-Round?

Ahh, one more ride on the Merry-Go-Round :) Thanks to Dad for taking this picture :)
A very blurry, but funny picture of us whizzing past on our noble steeds :)
I'm not sure what this ride was called - and it didn't look all to scary! You know those rides where you go upside down, sideways, loop-to-loop - those make me sick :(
Joelle and I played one last game (A balloon dart game), and she won a small puppy :)
The Merry-Go-Round was out last ride. Joelle wanted a balloon, so we got her one and decided to be on our way. It was around 9:15. We were on our way to the van, when we saw lots of people gathered around a small stage. A big sign read '
Hansen Spectacular
'. The show times were 7:30 and 9:15, so we decided to stick around and see what it was like.
We found out it was an acrobatics show. First, a man and a lady came out and did amazing roller skating! Seriously. Then the same man came out and did amazing jumps on the trampoline and also juggled - which included juggling torches of fire :) Then his daughters (Olivia and Madison) came out and jumped on the trampoline, and did some pretty good tricks (For being 5 and 3). Then the Mom (And the lady at the beginning) came out and did the acrobatics. Amazing!
How she does all that is beyond me! You don't realize how high up she was!
Oh :) I was trying to take a picture of the rides, and Joelle's balloon got in the way. Perfect timing though :)
So we left 'Hansen Spectacular' and went home. The whole evening was so much fun, despite the rain (Even though it was fun to duck into the cattle barns :). I can't wait to go back next year!
And thanks SO MUCH to Misty who helped me resize my photos! It worked wonders (Although I think I may have to make them a bit smaller :)!
Have a wonderful week!